Quality Assurance Board
---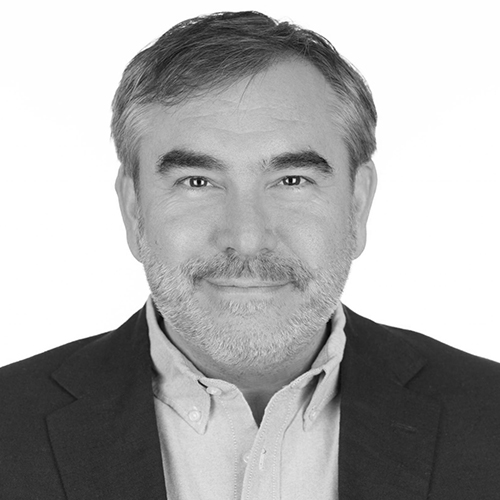 Christopher Granier Deferre
Christopher has over twenty years' experience working in film and television with experiences ranging from high-budget studio fare to low-budget factual television.
In 1998 he founded Poisson Rouge Pictures an independent film company, since then, he was involved in raising over £35m in film finance and the production of over 15 films and in 2000 he co-founded Britshorts, now one of the leading short film distributors, where he held the post of Head of Production & Acquisitions.
From 1994 to 1999 Christopher worked as assistant director for three-time Oscar Nominees Ismail Merchant and James Ivory.
He is a regular guest speaker at The National Film and Television School (London) and has consulted for The Royal Shakespeare Company and Adidas. He is a member of the Production Guild of Great Britain, and Life member of BAFTA.
Bruce Sheridan is President of CILECT, the world association of film, television, and media schools, and led the North-American region of that organization from 2014 to 2018. He won the 1999 New Zealand Best Drama Award for the tele-feature "Lawless", and has directed or produced several award-winning feature documentaries, including "Perfectly Frank", "Spellbound", and "Head Games". His most recent project, "Our Blood Is Wine", (directed by CCC Cinema Directing alumna Emily Railsback), was selected to the 2018 Berlinale. He teaches directing, screenwriting, and producing for drama and documentary in CTVA, where he was Department Chair from 2001-2017.
Over the last decade he has conducted extensive research on human creativity and learning from the perspective of embodied and extended cognition, with emphasis on improvisation, collaboration, and mentorship. Related publications include book chapters for Cambridge Scholars Publishing (Creativity Embodied and Extended; Play, Learning, and Creativity), and CILECT's 21st Century Film and Television School books (Screen Producing and Education in the 21st Century; Creativity, Physical Space, and Teaching Screen Directors).
Edith Sepp graduated from Gustav Adolf's Secondary School and started working at filmstudio "Tallinnfilm" as an Assistant Director. Few years later she started studying film direction at Lòdz, graduating with a Master's degree in Norhern Media school. After studying, she worked as a director and producer in film production companies in Estonia and in the UK – developing features and making documentaries, TV–shows, short films. After childbirth, she worked as a lecturer at the Baltic Film and Media School (BFM) and was also the head of Tallinn Summer School at the University of Tallinn.
In 2011, she returned to the film world and started working as an advisor of film at the Estonian Ministry of Culture and since 2013. She is the head of the Estonian Film Institute. EFADs board member since 2014.