Film Studio (85m2)
The University film studio is customised for film production. The film studio can be used for building sets for movies, short films and commercials. The ceiling of the studio is equipped with lighting fixtures and features a black background. Aside the studio there's a dressing and make up room, and the building next to it features the equipment warehouse, the television studio and the motion capture studio. Together they for a whole complex for production. The studio can also be used for larger official receptions, seminars and training events. It includes a stand with 35 seats. The students access to the studio is managed by the online platform Reshape. (reshape.ulusofona.pt)
Television Studio (82,5m2)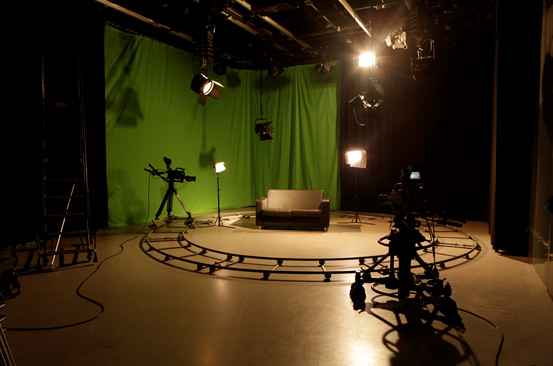 The Television studio can be used to make professional multi-camera recordings. Studio is equipped with four HD Sony PMW 350L HD cameras with the Sony HDC 1400U fibber optical camera channel and the Sony HDCU 1500U control panel. Cameras have Fujinon ZA 12x4.5 BERD and Fujinon HA 18x7.6 BERD-S lenses with zoom and focus servo-controls, Sony HDVF C730 LCD monitors, Vinten HD250 and Vinten Heavy Duty tripods. It also features the possibility of adding a fifth camera. Studio lighting is controlled by a Strand Lighting GSX console. The standard lighting kit consist in 8 Softlight 1Kw, 1 Softlight 2Kw, 9 Fresnel 2Kw, 4 Fresnel 2Kw, 2 Spotlight 650w, 3 Par 64, 2 Cyclorama 5Kw. Any lighting from the equipment warehouse can be added. It has black, grey and green backgrounds.
In Control Room Snell & Wilcox Kahuna 1ME/20HD allows working in high definition (1080i/50) and standard television (576i/25). Avid Airspeed allows digital recording and playback in 10bit 4.2.2 Avid DNxHD standard format. For external recording there's a Sony PDW 1500 recorder. Video monitoring uses a Evertz 3000 DCP Multiview with 4 Sony 42"and 8 21" monitors. Studio Intercom consists of a Trilogy Gemini system. Audio control uses a Evertz 500 ADA/AUD distributer, a Soundcraft Spirit FX16 mixer and Genelec speakers. The equipment warehouse has a large set o microphones available for usage in the studio. The television studio can also be used for larger official receptions, seminars and training events. It includes a stand with 40 seats.
Sound Studios
The University Film and Arts Department features two sound studios. They are designed for film and television production. As a complement to the studios there is an audio lab designed for classes.
Sound Studio 5.1.
This studio is designed for sound design in 5.1 Surround. It features 5 Genelec M040 speakers and a Genelec Subwoofer 7260 APM. The Apple MacPro workstation uses the Avid Protools HDX system with Avid Artist Control and Avid Artist Mix controllers. Hardware is an Avid HD I/O. The Waves Mercury Native Plug-in collection is also installed. The room has an Epson X21 video projector. The studio is plugged in two an Avid Isis Network system providing shared workspaces with the post-production centre.
Sound Studio B
This is a smaller studio, designed for recording and dubbing. It also allows for mixing in stereo. It's equipped with an Apple MacPro workstation and with an Avid Protools HDX controlled by an Avid Artist Control and an Avid Artist Mix. Hardware is Avid HD I/O. The Waves Mercury Native Plug-in collection is also installed.
Sound Lab
This lab is designed for classes. It's equipped with 13 PC workstations and features Avid Protools and Max software's. The workstation is complemented by M-Audio interfaces and M-Audio Keyboards. It features a video projector Epson X11 and audio speakers. Editing and Post Centre. The editing and post centre has 7 editing and post rooms, a colour grading suite and a lab designed for classes. This centre features an Avid ISIS 7500 with 128TB network system to provide a networked work environment. All workstations are connected to the network system, the editing and post rooms, as well as the colour grading suite, features a 10GB connection, the Lab has a 1GB connection. Editing and Post Rooms. The editing and post rooms are equipped with an Apple MacPro workstation and audio speakers. The workstation is running Avid Media Composer, Final Cut Pro X, Adobe Studio, Blackmagic DaVinci Resolve, Blackmagic Fusion, Discreet Smoke and Open DCP software's.
Colour Grading
The colour grading suite features an Apple MacPro and a Blackmagic Mini Monitor connected to a Sony Oled Trimaster EL monitor. The software running is Blackmagic DaVinci Resolve. Editing and Post Lab. The post lab is divided into two separate rooms, each with 10 workstations. One of the rooms features Apple IMac and the other Apple MacPro. The space is designed for classes and features two video projectors Epson X21 and audio speakers. The list of software's is Avid Media Composer, Final Cut Pro X, Adobe Studio, Avid Protools, Blacmagic DaVinci Resolve and Open DCP.